By Tina Malave
March 11, 2018
Original Story
LOS ANGELES (KABC) —
Eye on L.A. host Tina Malave invites some of L.A.'s favorite writer's, reporters, historians and bloggers, who all keep their eyes on L.A., to take us to their favorite spots that they say are quintessential Los Angeles!
Neil Saavedra Picks Pan Am Experience
Host of "The Fork Report" on KFI AM 640, Neil Saavedra takes us to the Pan Am Experience in Pacoima, which can easily be compared to a flying time machine. It's a four-hour experience in an actual 747 jet where they recreate everything about flying back in the '60s and '70s, including full-on gourmet meals, memorabilia and more. Your "flight" includes a five-course gourmet meal and cocktails.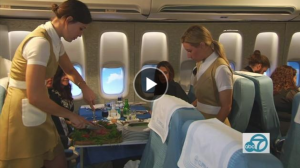 http://panamexperience.com/
https://kfiam640.iheart.com/featured/fork-report/
Twitter: @ForkReporter