You are not alone. The Fear of Flying is one of the most commonly experienced phobias among adults. The number of fearful flyers is estimated at about 25% of the population. For years, we have heard story after story of people who missed out on family vacations, job promotions, and business opportunities. Our passion is helping people like you.
FearlessFlight at Air Hollywood will help you manage your anxiety, overcome your fear, and give you the confidence to go where you want to go, when you want to go, visit places you want to visit and capture memories with families and friends. Our program has been carefully developed by top airline and human factors professionals with more than 30 years experience in fear of flying coaching. Air Hollywood's unique aviation-themed studio offers a one-of-a-kind, experiential treatment program in a safe, friendly environment.
The FearlessFlight® Kit is a collection of audio, video, and document files designed as tools to use in conjunction with the strategies to overcome your fear of flying, which we teach in our classes here at Air Hollywood.
The Kit was designed for you with the goal in mind to immediately and effectively relieve your stress related to anxiety, claustrophobia and other negative emotional sensations associated with fears of flying and flight phobia.
The FearlessFlight® HARMONIZER is the only product available specifically for fearful flyers which uses bilateral brain stimulation and a form of hypnosis called "multi-evocation". It also has actual airplane sounds embedded to help desensitize your conscious mind while "drowning out" your anxiety-triggered self-talk that hijacks your brain. It starts the dialogue for you!
When you enroll in the class, you will receive a $50 dollar discount coupon for the FearlessFlight® Kit.
The FearlessFlight Kit includes:
The Fearless Flight Guide (PDF)
FearlessFlight Harmonizer (Audio Only Version)
FearlessFlight Harmonizer (Video Version)
Take-Off Video with FFH Soundtrack (Video)
Take-Off Video with Upbeat Guitar (Video)
Real Life Stories (PDF)
Turbulence (Video)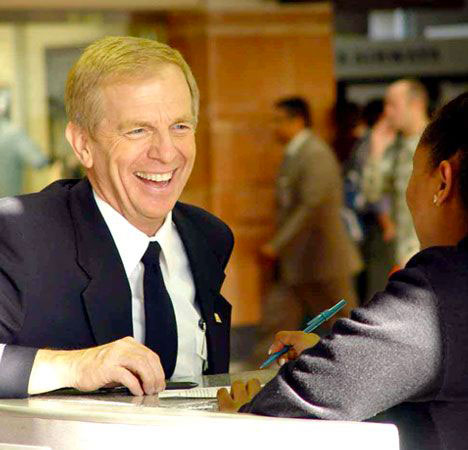 About Captain Ron Nielsen
Known as Capt Ron to many thousands of fearful flyers he has helped since 1987, is a globally recognized fear of flying expert and international bestselling author.
  Growing up in rural Indiana, since second grade, he longed to become a pilot and "rise above" those "surly bonds" of earthly existence.
An Air Force Academy graduate with a tour in Vietnam, Captain Ron Nielsen accumulated over 20,000 hours during his career as a commercial pilot flying a Boeing 737. Capt Ron Nielsen has been a pilot for almost 40 years and a captain for a major airline for 30 of those years.   
He served on the Air Transport Association's Human Factors Subcommittee.
As a recognized authority in human factors and pilot performance, Capt Ron designed and delivered programs to reduce the likelihood of aviation accidents due to human error. He served on the Air Transport Association's Human Factors Subcommittee and has spoken at numerous national conferences on human factors in aviation.
As an aviation industry expert, he has been featured on The Today Show, Weekend Live, NBC's Nightly News, CSNBC, and MSNBC.
Capt Ron holds an M.A. in Professional Counseling and a Certificate of Advanced Studies in Human Resources. His knowledge of psychology, combined with his knowledge of airplanes, led him to develop powerful tools and proven strategies for fearful flyers all over the world to successfully recognize, regulate and replace their fears.  
Captain Ron is also the author and creator of Chicken Soup for the Soul Presents The FearlessFlight Kit®, as well as the international bestselling book "How to Overcome Fear of Flying".
To learn more about the free resources, classes, products and services offered by FearlessFlight®, visit www.fearlessflight.com.