You are not alone. The Fear of Flying is one of the most commonly experienced phobias among adults. The number of fearful flyers is estimated at about 25% of the population. For years, we have heard story after story of people who missed out on family vacations, job promotions, and business opportunities. Our passion is helping people like you.
FearlessFlight at Air Hollywood will help you manage your anxiety, overcome your fear, and give you the confidence to go where you want to go, when you want to go, visit places you want to visit and capture memories with families and friends. Our program has been carefully developed by top airline and human factors professionals with more than 30 years experience in fear of flying coaching. Air Hollywood's unique aviation-themed studio offers a one-of-a-kind, experiential treatment program in a safe, friendly environment.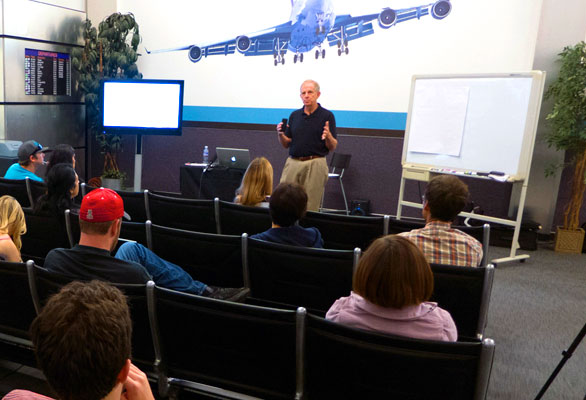 Register below to receive information about our next FearlessFlight class:
Also being offered with the class is the ultimate solution to conquer your fear of flying – the FearlessFlight Kit (FFK). Captain Ron has been developing the FearlessFlight Kit for the past 10 years – it is a bundle of interactive products that will help you manage your anxiety leading up to, during, and after your flight. It is everything Captain Ron has learned during his 40 years as a pilot and 27 years as a Fear of Flying coach.
The total value of this bundle is more than $800, but with your enrollment in the FearlessFlight class at Air Hollywood, you get it for FREE. Yes, you read that correctly! Enroll in the class and the FearlessFlight Kit is yours for FREE. This offer is only available through Air Hollywood.
The FearlessFlight Kit includes:
The Fearless Flight Guide (PDF)
FearlessFlight Harmonizer (Audio Only Version)
FearlessFlight Harmonizer (Video Version)
Take-Off Video with FFH Soundtrack (Video)
Take-Off Video with Upbeat Guitar (Video)
Real Life Stories (PDF)
Turbulence (Video)
During the FearlessFlight class, passengers are equipped with the knowledge and tools to combat their fears and anxieties surrounding air travel. The morning session includes a 4-hour classroom session, when students learn about the safety aspects of commercial air travel and practical exercises designed to reduce anxiety leading up to and during flight.
This is followed by a 2-hour flight simulation aboard Air Hollywood's true-to-life airplane mock-up. During the "flight", students are encouraged to practice their anxiety management techniques and Captain Ron will be there to answer any questions and respond to individual needs.
Lunch will be served on the airplane, and afterward the group reconvenes for another classroom session to debrief and conclude the class.
The cost to attend FearlessFlight is $497/student or $547/student + companion.
On the Sunday following FearlessFlight, many of our students opt-in to the Advanced Class and fly with Captain Ron on an actual commercial flight. Typically, the advanced class is intended for students who have attended FearlessFlight in the past and have had ample opportunity to practice their anxiety management techniques with the FFK and are ready to go to the next level. Many students in our Saturday class who feel confident or highly motivated to accelerate through the curriculum opt-in as well.
Advanced Class Format: Our group meets at Burbank Bob Hope Airport in the mid/late morning and together we take a short flight to a destination about one hour away. Captain Ron and Air Hollywood staff accompany the group. At the destination (usually Sacramento or Oakland), the students will dine together in the terminal, discuss the flight, and relax until the return flight to Burbank later that afternoon. In Burbank, the day concludes with a final debriefing and graduation!
The cost to attend the Advanced Class is $150 per student (companion welcome at no add'l cost), which does not include airfare. After enrolling in the Advanced Class, we will email you the flight itinerary and you will be responsible for reserving a seat directly with the airline.
Many opportunities for continued coaching are available following the class.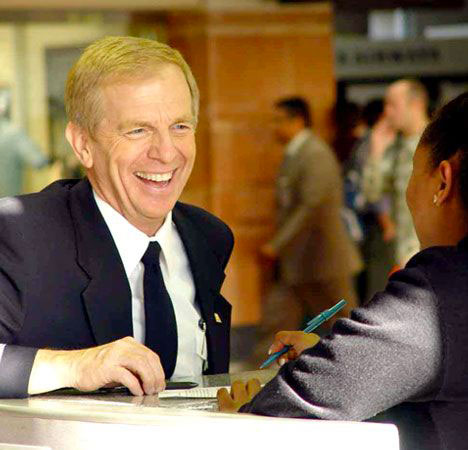 About Captain Ron
Captain Ron Nielsen has been a pilot for almost 40 years and a recently retired captain for a major airline. Flying has always been his passion; now he devotes much of his time and energy to helping other people be able to fly. Having been involved with fearful flyers since 1987, he has gained a unique understanding of fearful flyers and their fear. He has his master's degree in professional counseling, so connecting with people and helping them give him a great deal of satisfaction. His knowledge of people combined with his knowledge of airplanes have helped him develop strategies for fearful flyers to successfully manage their fears. Through his live classes and webinars, he has restored confidence to thousands who are now flying again. He is frequently contacted by the media for his aviation expertise.